Enjoy 100% Whiter Teeth* with virtually No Sensitivity. Just Swipe & Go!
The next breakthrough in teeth whitening is finally here. Unlike toothpastes and paint-on gels which dilute and wash away quickly, Crest Whitening Emulsions includes 5X active peroxide droplets suspended in a hydrating base to whiten teeth with virtually no sensitivity. Our unique formula is enamel-safe, starts working instantly, and stays on your teeth 10X longer, with no need to rinse, brush or remove. This convenient size allows you to apply Crest Whitening Emulsions with precision and includes a stand for wand applicator and tube storage.
Net Contents:
Tube NET WT 0.88oz (25g) of leave on teeth whitening treatment
Wand applicator
Stand for easy storage
*vs. the leading whitening pen brand
DESCRIPTION
Starts working instantly to deliver 5X more active hydrogen peroxide
Whitening teeth with virtually no sensitivity
Can be applied in seconds throughout the day and absorbs quickly – just swipe and go!
Features a water-resistant hydrating base that protects teeth from whitening-related sensitivity.
Creates a micro thin layer of active peroxide droplets that stay on teeth 10X longer
And keep working to remove and prevent stains for better, faster teeth whitening results
How To Use
USAGE
Apply once a day for 30 minutes. Full results in 12 days.
HOW TO USE
Step 1 – GIVE IT A GOOD SQUEEZE:
Give your tube a good squeeze so the teeth whitening emulsion dispenses onto the wand applicator, covering the entire tip.
Step 2 – SWIPE ON IN SECONDS:
Apply the product directly and liberally, making sure to cover all surfaces of your teeth. Feel free to use as many coats as needed to fully cover all the teeth you wish to whiten!
Step 3 – SMILE AND GO:
Now, you're ready to reveal your whiter smile. For best results, we recommend you do not eat or drink for 30 minutes after applying the emulsion.
How To Choose
How to choose the best Crest 3D Whitestrips for you
Crest White Smile was created to bring the #1 dentist-recommended whitening brand directly to your doorstep: Crest 3D Whitestrips. With 20 years of teeth-whitening experience brightening and whitening smiles across the globe, we're confident we can help you achieve a whiter smile that helps you shine.
Compare Crest 3D Whitestrips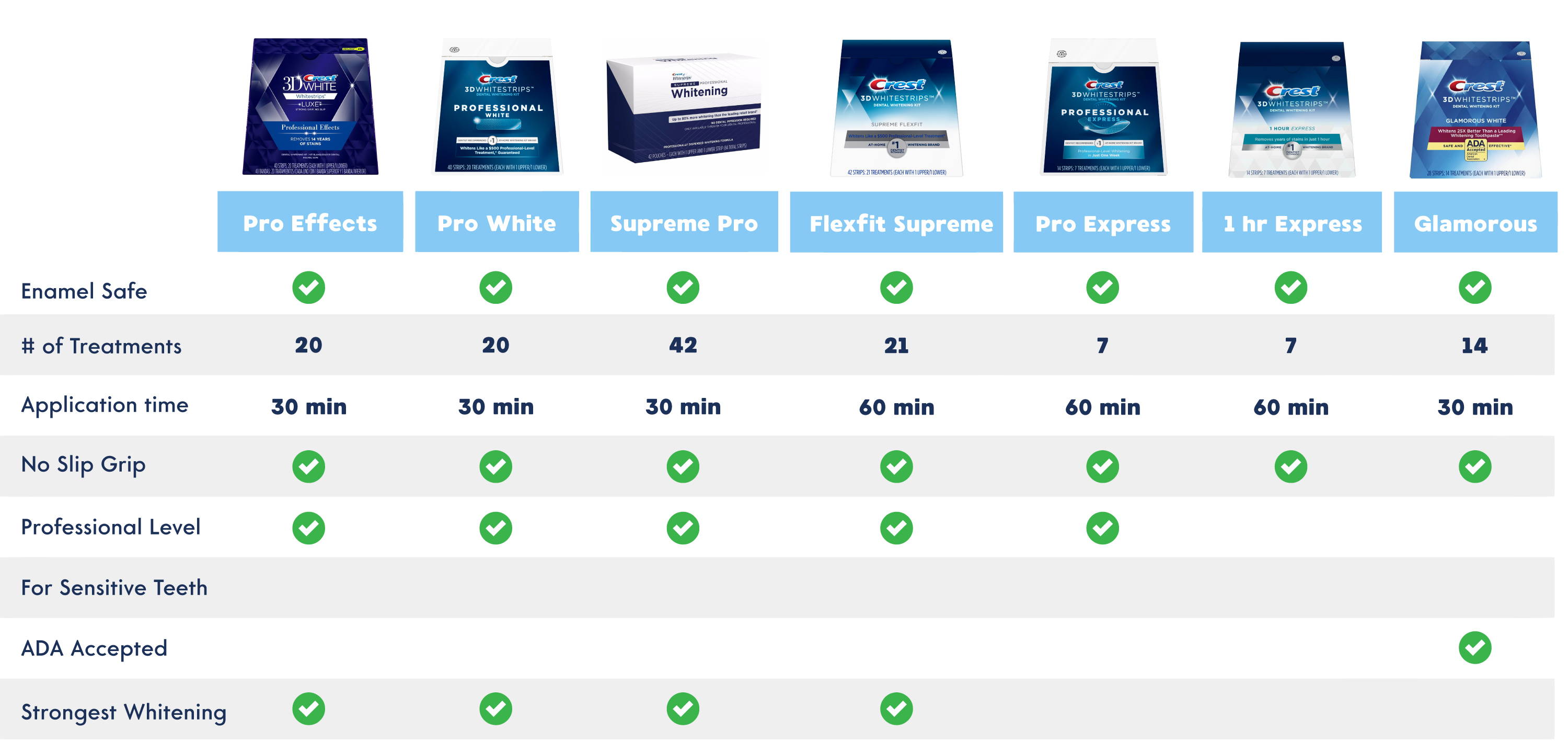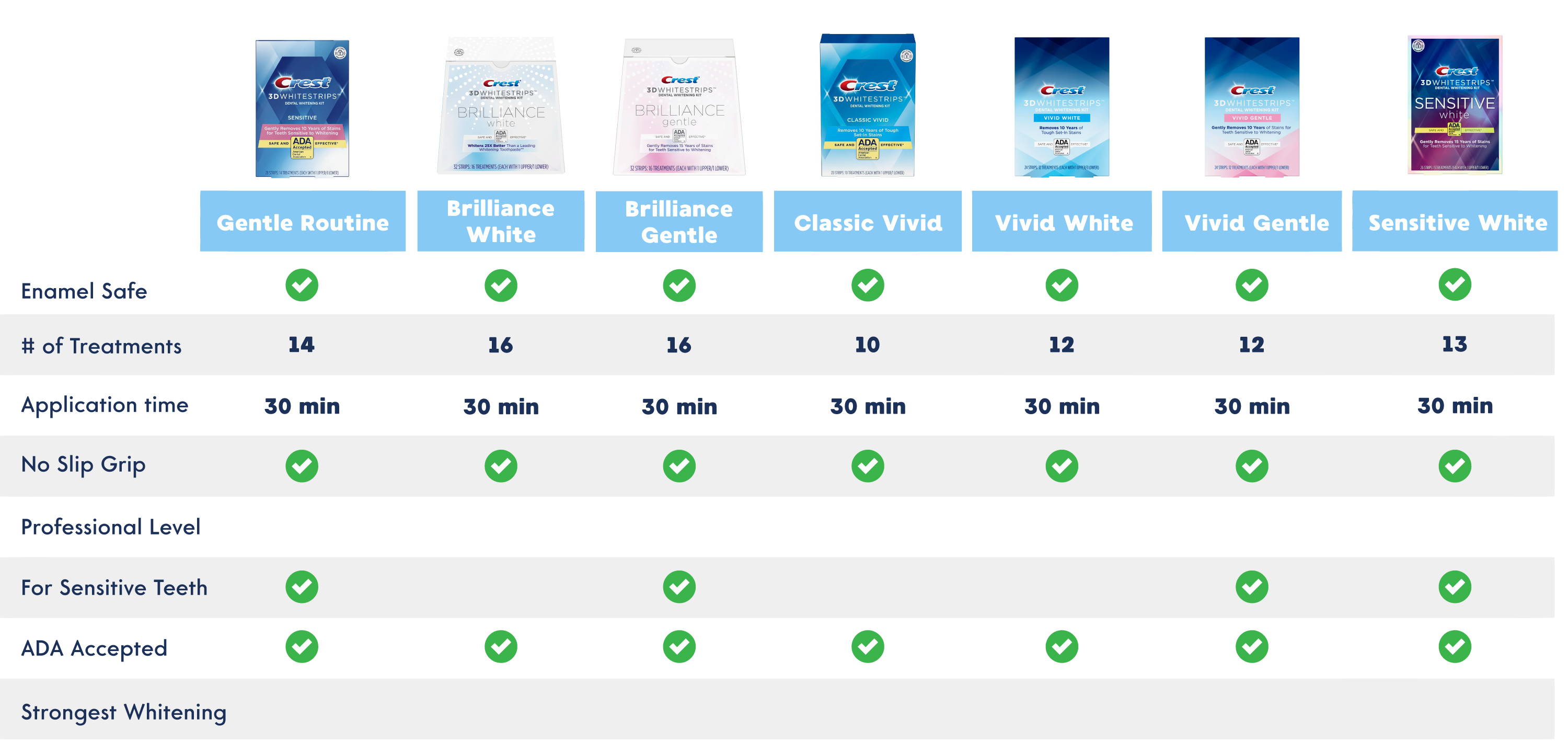 Improve results with Blue Light
How Blue light improve the whitening results
LED Blue Light System uses the same type of light technology dentists use. The LED light safely penetrates the enamel surface to weaken tough, yellow stains so that the teeth whitening ingredients in Crest 3D Whitestrips can work more effectively. The result? Dramatically whiter teeth compared to using just Whitestrips.
Highlights
Whitens 50% better than strips alone in just three days
Safe on enamel using the same whitening ingredient as dentists
Lightweight, water resistant, disposable, handheld light weakens stains
Usage
Wear the strips for 30 mins or 1 hr depending on the model that you have purchased. Please refer to the instruction of the specific model.
Turn on LED Accelerator Light and use it during the last 16 minutes of the whitening treatment.
Place the light against the strips until the light automatically turns off after 16 mins. Then remove the light and strips.